MONAT Sleep Drops
Sku

#6000001060
Restful Sleep Elixir*
A soothing elixir of herbal extracts, amino acids, and minerals that help quiet your mind and relax your body so you can achieve restful, restorative sleep.*
FEATURES
Provides the body and mind with a custom sleep blend of amino acids that signal the brain to relax. Herbal extracts and antioxidants allow the body to relax and achieve truly restful, deep sleep that lasts all night.*
BENEFITS
Helps promote restful sleep without next-day drowsiness*
Supports the body's natural stress response*
Tincture delivery format—no pills to swallow
Delicious sugar-free Fruit Medley flavor
Non-habit forming
INGREDIENTS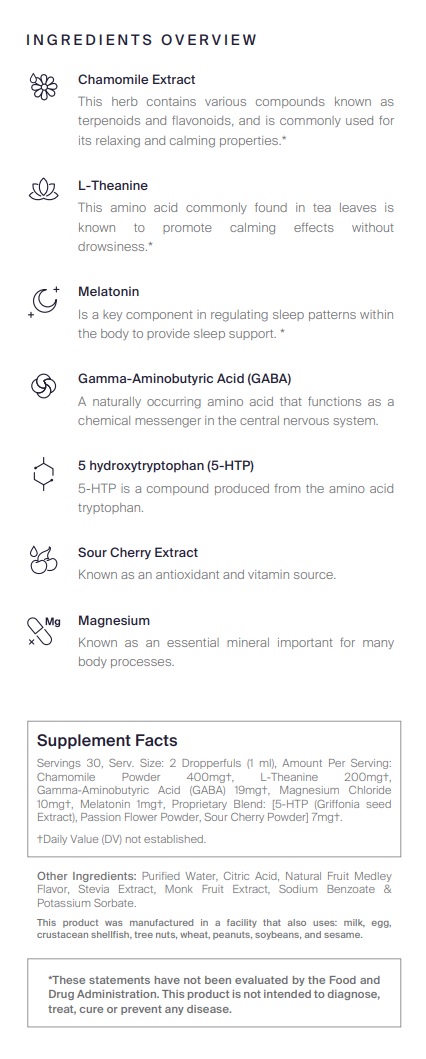 Reviews
Jesenia
Great sleep
Love the sleep drops truly gives me the best sleep and really helps relax my body. Love waking up refreshed and well rested!
View Details
Christine
Sleep Drops
Amazing!! Helps me relax and not only fall asleep but stay asleep!!! **No groggy feeling in the morning!
View Details
Carolina
Amazing results
The drops have helped me rest and silence my mind when I need to sleep. The next morning wake up fresh without drowsiness.
View Details
Kayla
THE BEST
These are by far the absolute best sleep drops. I've tried other sleep remedies and they've never worked for me. These are the only drops that help me sleep!
View Details